Our new Catering providers (Derbyshire catering) will be in post from Tuesday May 3rd. This is in line with other QEGSMAT secondary schools and we are delighted to welcome them to the Academy. We are particularly excited to see the use of more sustainable and recyclable packaging as well as a brand new menu which can be found below:
Please note that there will be changes in service and menu and that this will be a change for our young people. We will be talking pupils through the changes and exciting developments in the food venues during assemblies on that day. We will discuss the importance of healthy eating and a sustainable future and would welcome you continuing those conversations at home.
We also ask that Parentpay accounts have sufficient monies on them at all times. Those pupils who have not had their biometric data taken yet to use their finger to pay (due to our approach to covid) will be asked to provide it next week. Consent has been ascertained when joining the school this year for year 7 and via firefly for year 8. All other year groups should already have these measures in place, any problems please contact your child's tutor in the first instance.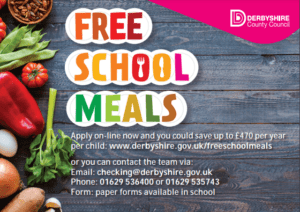 Medical Diets and Intolerances
Derbyshire Catering Service believe that the provision of medical diets is an important part of the service we offer to pupils, parents/carers and schools. All requests for medical diets must be accompanied by medical confirmation from a health professional. A bespoke menu will then be created to suit your child's requirements.
If your child requires a medical diet please ask your school for a form or alternatively click on the links below to download a form: